What are you looking for today?
For over 10 years Houston Stair has been the best in Houston, TX with over 20 years of experience under our owner's belt; 9 of those 10 years we have specialized in glass railing installation. And did we mention we've been featured on Extreme Makeover: Home Edition & HGTV's Brother vs. Brother? Yeah, it's pretty sweet.
So wait, why are we the best?
Simple: we deliver what you need and we love it because it's our passion to give you the best experience and the best product. Plus, we've been featured on HGTV's Brother VS Brother and Going For Sold; we're confident in what we provide!
Don't believe us? We get it. Take a look through our glass gallery or give us a call to speak with our friendly staff. We look forward to hearing from you.
Featured on HGTV's
Brother VS Brother
Going For Sold
&
Extreme Home Makeover
A Little about...
The Brain Behind the Biz
Thadd Grimm has been building stairs since he was 21 years old. With 27 years of experience behind him, he's always looking for ways to improve, innovate and create. Houston Stair Company is owned and operated by him and his wife, Pam as well as two of their sons. Because we are a family-owned business, we are able to monitor the quality of our products and provide you with sincere customer service.
Don't be afraid to shoot us an email or give us a call!
In-Person Consultations are by appointment only.
Custom glass railing with stainless steel clamps
Cutting edge bamboo treads
A SPECIALTY
STAIR COMPANY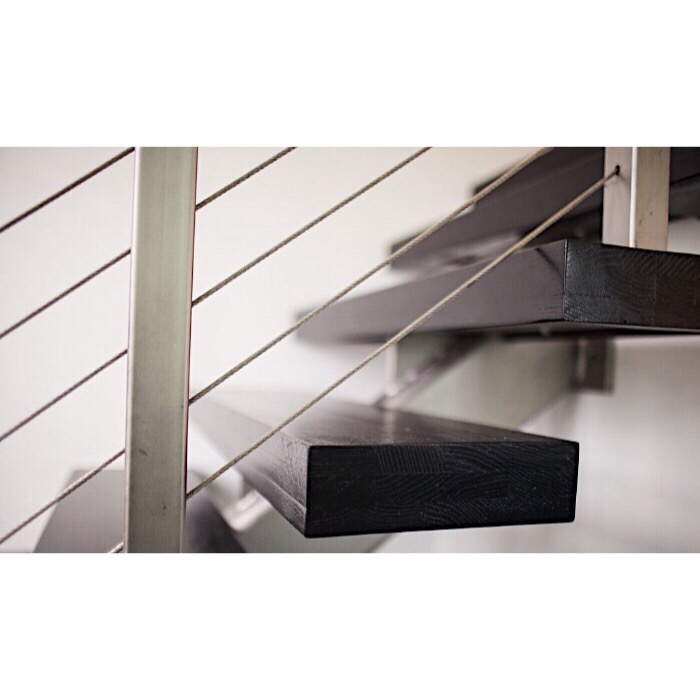 the Services
Glass, Stainless Steel + Cable Experts
Not only are we professionals in glass installation for your dream stair, we are also highly experienced professionals in the field of stainless steel cable, horizontal, iron & wood railings. And every now and then, we get to play with super creative and unique projects. Click on one of the icons below to find exactly what you're looking for.
Not in Houston or the greater Houston area? No problem.
We are now offering nationwide glass measurements and installation.
Why? Because we're the best in our industry and we want to ensure your stair is done well and by the right people.
GLASS RAILING
CLICK HERE TO VIEW OUR CUSTOM GLASS RAILING PROJECTS
CABLE RAILING
CLICK HERE TO VIEW OUR CUSTOM STAINLESS STEEL CABLE RAILING
Horizontal RAILING
CLICK HERE TO VIEW OUR HORIZONTAL RAILING PROJECTS
CREATIVE PROJECTS
CLICK HERE TO VIEW OUR CREATIVE PROJECTS AND NOT-SO-COMMON WORK
Looking for iron railing? Click below.
YOUR FLOATING STAIR SPECIALISTS
EXPERTS IN CANTILEVER STAIRS
Houston Stair Company, Inc. is located right in the heart of Houston itself. We do most of our communication through email, over the phone and at the job site.
We are located at:
55 Lyerly Street Ste. 208
Houston, TX 77022
In-person consultations are by appointment, only.